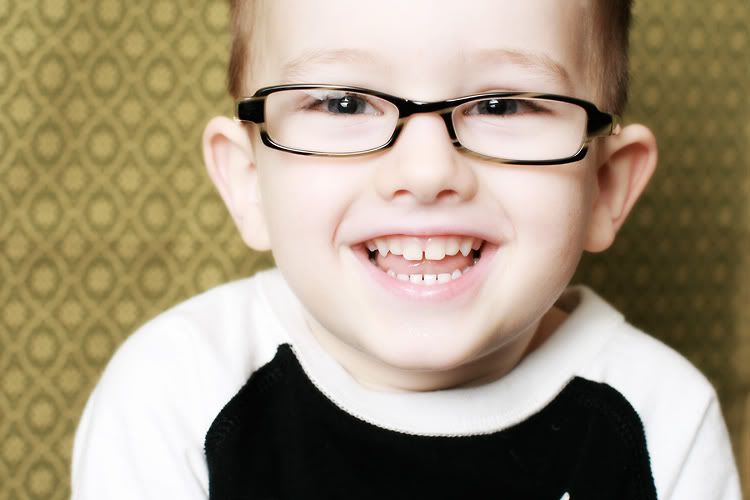 Embarrassingly, many of you have asked if B's new look is for real, or just something I concocted in the name of accessorizing.
Do you really think I would do such a thing??
A few months ago our pediatrician noticed Beckett's eye turning in, but I didn't think much of it as I had never noticed anything. The next visit was for Wil and she saw it happening again. She mentioned casually that sometimes if that part of the brain hasn't been stimulated it shuts down and the damage is irreversible. Yikes. I had a eye doctor appointment made that day.
Beckett has a lazy left eye. He is severely far sighted in his left eye and moderately far sighted in his right. His condition is called Accommodative Esotropia which refers to a crossing of the eyes ("esotropia") caused by farsightedness. Poor little guy inherited this from his father.
I was worried about the diagnosis and wasn't sure how accurate the testing could be due to Beckett's age, but from the first time he put the glasses on he has never tried to take them off (unless they've interfered with him laying down).
I take it they're working.
So, here's the new face of Beckett. I ignorantly asked the optometrist how long he would have to wear them and was taken aback when she answered that the prescription is usually lessened at age 11 or 12.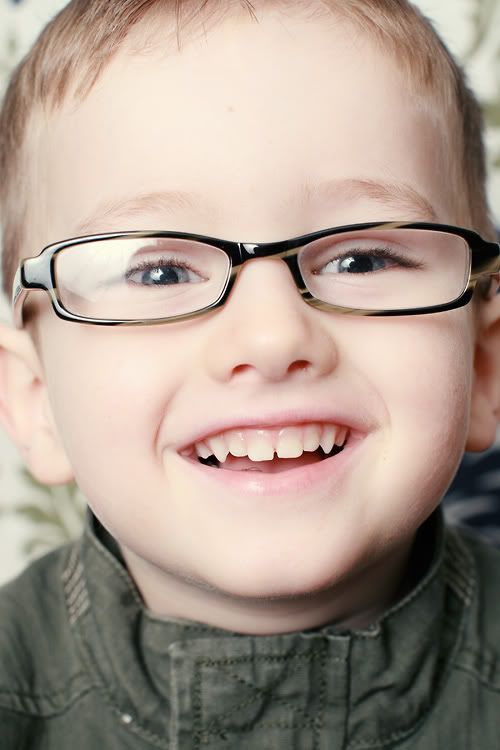 Fortunately he is adorable in them (at least I think so). He is constantly telling people about his lazy eye, "hey, I have a lazy eye" and whenever he sees someone else with glasses asks, "mommy, does he/she have a lazy eye?"
Who knew when I took this picture back in August 07 that it would become a reality for this little man.
(And these glasses are the reason you were all wondering about the validity of his rims.)